Bride & Bridesmaids Petticoats
Posted on
We will soon be approaching the wedding season again. As we know most Brides like to be well prepared for their big day in advance. Just thought we would share with you some of the most common questions we get asked. As all our petticoats are handmade by ourselves, we can make them to your specific requirements, regards colour options, the amount of layers and trim etc.
How many layers do you recommend?
Please take a look at our bridesmaid wedding petticoat page here alternatively if you are still undecided, order your best guesstimate. If the petticoat is not full enough, feel free to return for extra layers adding. If the petticoat is too full, you can simply cut a layer away. Net doesn't fray so don't worry.
Do I need the anti-static lining?
The anti-static lining is attached to the petticoat behind the net. This acts as a protective layer for the legs. If you intend wearing tights/stockings etc we recommend this option to prevent snagging.
This option is purely down to personal preference. If the petticoat is intended to be hidden under the dress/skirt there is no reason to have the petticoat trimmed. If your petticoat is to be on show below the hem of the dress/skirt think about the overall effect you want to achieve. It does look very effective especially on the rockabilly petticoats, any colour combination you want. Matching trim for a subtle effect or a vivid contrast of colour to give that wow factor as seen here :-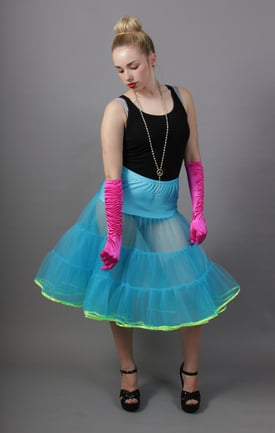 You offer a next day delivery service, if I choose a petticoat, can you send it out today?
We always try our best to accomodate urgent orders however please bear in mind we don't stock any petticoats they are all made to customer specification. If you are wanting one of our simple petticoats we are normally able to despatch same day depending upon current workload. However some of our petticoats particularly the multi layered one's are a little more intricate and do require a little more time to make up.
It is always nice when people are well prepared in placing their petticoat order early. We are however always willing to help customers when ever possible. We once had a desperate customer that had been let down by another company. She called on Thursday asking if it would be at all possible for a full length wedding petticoat to be made to measure. We rallied round, got the petticoat made up, despatched it Friday and the Bride had her custom petticoat for her big day on Saturday :)